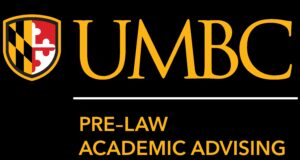 About Pre-Law Advising
UMBC's pre-law advising services are open to current students of all majors as well as alumni interested in law school and legal careers.
The pre-law academic advisor is available to provide the following services:
Help students and alumni explore their interests and decide whether law school is the right path for them
Advise current students and alumni about:

academic preparation for law school
the law school admission process
Law School Admission Test (LSAT) examination and preparation
factors to consider in applying for and choosing a law school
financing law school
scholarship opportunities
law school rankings
internship and employment possibilities
networking and job shadowing

Review personal statements and other law school application materials
Students at UMBC may meet with the pre-law academic advisor at any time, including as early as their first or second year, to explore whether attending law school is a good fit.  Students should continue to meet with their designated academic advisor to ensure they stay on track for completing their major and graduation requirements.
---
For more information, please contact Molly Timko, J.D., Pre-Law Academic Advisor at mtimko@umbc.edu.
Current UMBC students are encouraged to follow the Pre-Law Advising Group on myUMBC and the UMBC Pre-Law Society on Instagram.